This Age Well Expo event on this weekend on Sunday June 11th 2023, in the Pavilion at Leopardstown Racecourse may be of interest to JRA residents!! Details below:
dlr Age Well Expo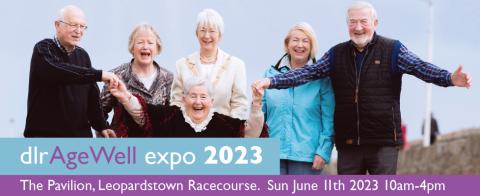 Dún Laoghaire-Rathdown County Council (dlrcc) presents the dlr Age Well Expo in association with the dlr Age-Friendly Alliance to celebrate and showcase services and activities available to older people in Dún Laoghaire-Rathdown.
One of the highlights of the event will be a performance by 90-year-old Actress Sheila Flitton from the Banshees of Inisherin, of her highly acclaimed one-woman show 'Beezie' which was written by Sheila and her son David and has been performed to critical and audience acclaim on three continents. Sheila Flitton has a longstanding career in television, film and theatre but garnered new found fame following the release of Banshees Of Inisherin. Sheila has also starred in Visitation, 'The Vanishing Triangle' The Problem with People', 'The Northman, 'Widow's Peak', The Snapper,' 'Glenroe' 'The Country Girls', US comedy 'Supervized' 'Big Maggie,' 'The Playboy of the Western World', 'Riders to the Sea,' and was nominated for 'Best Actress' by the Irish Times Theatre Awards for her role as Mags in 'The Beauty Queen of Leenane.'
The dlr Age Well Expo will also provide an opportunity to socialise, connect, engage and hear about topics of interest, particularly around the subjects of ageing well, participation, health, security and social activities, over two sessions on the day. Speakers on the day will include Professor Ian Robertson, author of the brilliant and thought-provoking book; 'How confidence works: The new science of self-belief' with a talk on Confident Ageing. Latest research findings on The Irish Longitudinal Study on Ageing (TILDA) in Ireland will be presented by Dr Ann Monaghan from TCD. Áine Flynn, director of the newly launched Decision Support Service will give a presentation on Decision-Making legislation.
Entry to the event is free of charge by ticket from dlrevents.eventbrite.ie and will feature a large and diverse range of exhibitors including representatives and stands from the HSE, An Garda Síochána, dlrcc Libraries, Community & Energy Team, UCD Access & Lifelong Learning, Adult Education Service, Dublin & Dún Laoghaire Education & Training Board, Southside Partnership's Healthy Food Made Easy, Senior Wellness Activity Programme, Care & Repair & Social Prescribing Services; Purple House Cancer Support, Money Access & Budgeting Service (MABS), Men's Shed, Making Connections, Irish Hospice Foundation, ICA Groups, Living Well with Dementia, Dublin Bus, Go Ahead, dlrcc Active Travel, DLR Sports Partnership, ALONE, Age Action, Age Friendly Ireland and lots more. The Alzheimer Society of Ireland will have a mobile information unit and the Irish Heart Foundation will also be doing free Blood Pressure & Pulse checks.
Register now to attend at dlrevents.eventbrite.ie
There will be free return shuttle buses to the event from Dun Laoghaire DART Station and Nutgrove Shopping Centre, with pickup points along the way, running in the morning and the afternoon.  No booking required.  Details of route and stops are listed in the related documents.  
https://www.dlrcoco.ie/dlr-events/event/dlr-age-well-expo